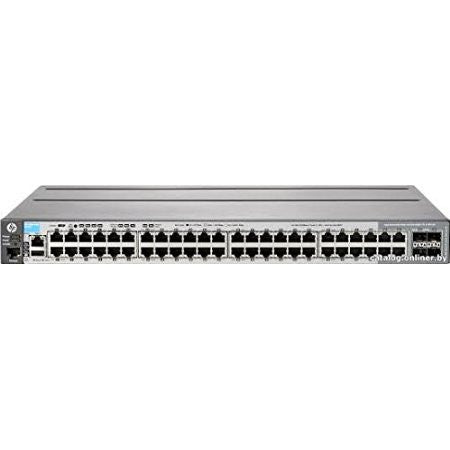 HP 2920-48G-POE+ 740 W Switch Switch - 48 ports - L3 - managed - stackable J9836A
Item No.
---
The HP 2920 Switch Series consists of five switches: the HP 2920-24G and 2920-24G-PoE+ Switches with 24 10/100/1000 ports, and the HP 2920-48G and 2920-48G-PoE+ and 2920-48G 740W PoE+ Switches with 48 10/100/1000 ports. Each switch has four dual-personality ports for 10/100/1000 or SFP connectivity. In addition, the 2920 switch series supports up to four optional 10 Gigabit Ethernet (SFP+ and/or 10GBASE-T) ports, as well as a two-port stacking module. These options provide you with flexible and easy-to-deploy uplinks and stacking. Together with static and RIP routing, robust security and management, enterprise-class features, free lifetime warranty, and free software updates, the HP 2920 Switch Series is a cost-effective, scalable solution for customers who are building high-performance networks. These switches can be deployed at the enterprise edge, in remote branch offices, and in converged networks.
Device TypeSwitch - 48 ports - L3 - managed - stackable
Enclosure TypeRack-mountable - 1U
SubtypeGigabit Ethernet
Ports44 x 10/100/1000 (PoE+) + 4 x combo Gigabit SFP
Power Over Ethernet (PoE)PoE+
PoE Budget740 W
PerformanceThroughput : 130.9 Mpps Switching capacity : 176 Gbps
CapacityIPv4 routing table entries : 2048 IPv6 routing table entries : 256
MAC Address Table Size16000 entries
Jumbo Frame Support9220
Routing ProtocolRIP, RIP-2, static IP routing, MLD
Remote Management ProtocolSNMP 1, RMON 1, RMON 2, RMON 3, RMON 9, Telnet, SNMP 3, SNMP 2c, HTTP, HTTPS, TFTP, SMON, SSH, SSH-2, CLI
Encryption AlgorithmSSL, TLS
Authentication MethodRADIUS, PAP, CHAP, TACACS, TACACS+, Secure Shell v.2 (SSH2), Extensible Authentication Protocol (EAP)
Compliant StandardsIEEE 802.3, IEEE 802.3u, IEEE 802.1D, IEEE 802.1Q, IEEE 802.3ab, IEEE 802.1p, IEEE 802.3af, IEEE 802.3x, IEEE 802.3ad (LACP), IEEE 802.1w, IEEE 802.1s, IEEE 802.1v, IEEE 802.3at, IEEE 802.3az, IEEE 802.1AX
Processor1 x ARM ARM1176 : 625 MHz
RAM512 MB - SDRAM
Interfaces48 x 1000Base-T - RJ-45 - PoE+ 4 x - SFP 1 x management - RJ-45 1 x management (micro-USB) - Type B 1 x USB
Power DeviceInternal power supply - hot-plug
Power Provided1050 Watt
Brand New Factory Sealed.
For warranty details please check our Terms and Conditions page or calls us at 407-878-1232
---
Share this Product

---