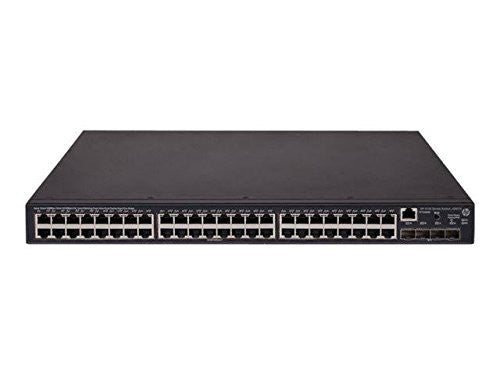 HP 5130-48G-PoE+-4SFP+ EI Managed L3 Switch - 48 Ethernet Ports & 4 10/1 Gigabit Ethernet SFP+ Port JG937A
Item No.
---
The HP 5130 EI Switch Series delivers flexibility, scalability and low TCO at the access layer of medium and large enterprise campus networks. Offering enterprise class QoS and security, HP Intelligent Resilient Framework (IRF) stacking, static layer 3 routing and RIP, convenient fixed 10GbE uplink ports, PoE, ACLs, IPv6 and delivers energy savings with Energy Efficient Ethernet. The HP 5130 EI Switch Series is SDN ready with OpenFlow 1.3 support, can be managed with HP Intelligent Management Center (IMC) for a single view of your entire network, and includes Lifetime Warranty 2.0.
Device TypeSwitch - 48 ports - L3 - managed - stackable
Enclosure TypeRack-mountable - 1U
SubtypeGigabit Ethernet
Ports48 x 10/100/1000 + 4 x 10 Gigabit Ethernet / 1 Gigabit Ethernet SFP+
Power Over Ethernet (PoE)PoE+
PoE Budget370 W
PerformanceThroughput : 130.9 Mpps Routing/switching capacity : 176 Gbps
CapacityIPv4 routing table entries : 512 IPv6 routing table entries : 256
Routing ProtocolStatic IPv4 routing
static IPv6 routing
Authentication MethodRADIUS
TACACS+
Secure Shell v.2 (SSH2)
HWTACACS
Voltage RequiredAC 120/230 V
Power Consumption Operational490 Watt
Brand New Factory Sealed
In Stock!
For warranty details please check our Terms and Conditions page or calls us at 407-878-1232
---
Share this Product