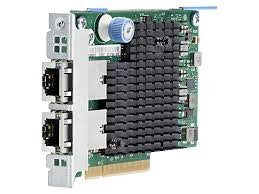 HP Ethernet 10GB 2P 561FLR-T Adapter
Item No.
---
The HP Ethernet 10Gb 2-port 561 FLR-T FlexibleLOM adapter features the latest generation 10 GbE Intel Ethernet Controller X540. The HP 561FLR-T is a low-cost, low-power, dual port 10GBASE-T adapter designed for use in HP ProLiant Gen8 rack, tower and scalable servers. The HP 561FLR-T addresses the demanding needs of the next-generation data center by providing unmatched features for virtualization, scalability to keep up with the HP ProLiant Gen8 server platform, with proven and reliable performance HP customers have come to expect. The HP 561FLR-T adapter enables connections with standard CAT6 cabling. The HP 561FLR-T supports high performance networking features such as VLAN tagging, Low latency interrupts, TCP and UDP checksum offloading, MSI-X, NIC teaming (bonding), Receive Side Scaling (RSS), WOL, jumbo frames, PXE boot and virtualization features and is VMDq and SR-IOV ready.
Device TypeNetwork adapter
Form FactorPlug-in card
Interface (Bus) TypePCI Express 2.1 x8
Connectivity TechnologyWired
Ports10Gb Ethernet x 2
Processor1 x x540 - Intel
New Factory Sealed
In Stock - Ship Today!
For warranty details please check our Terms and Conditions page or calls us at 407-878-1232
---
Share this Product