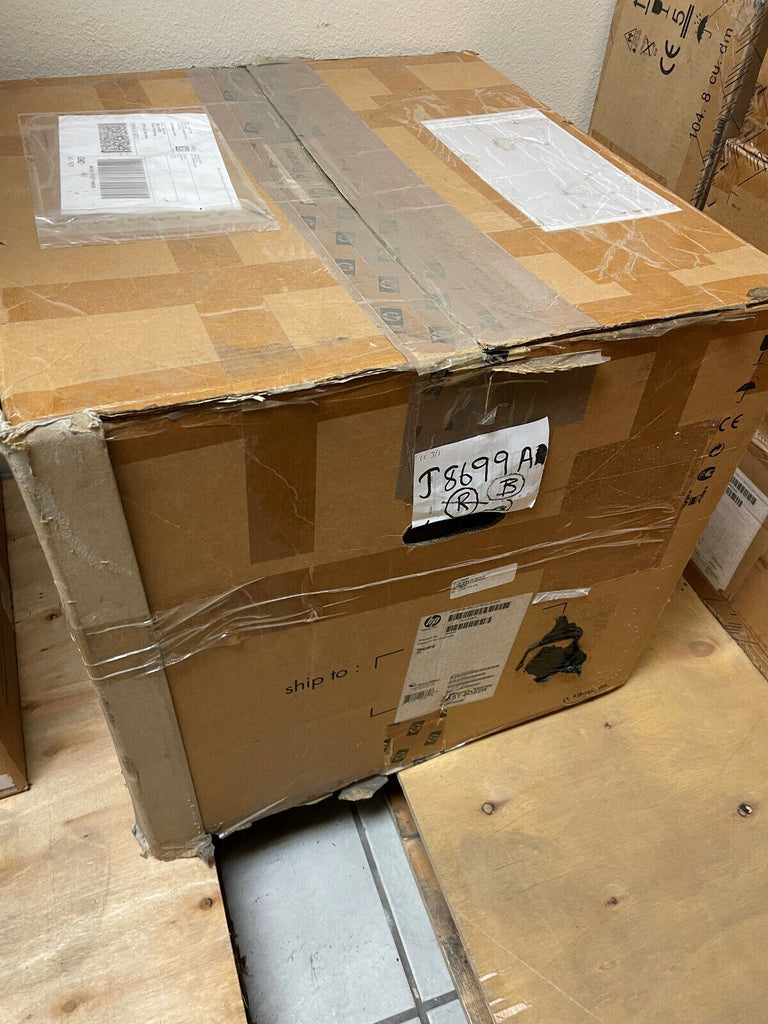 HP (J8699A) 48-Ports Rack-Mountable Ethernet Switch
Item No.
---
J8699A | HP J8699A HP ProCurve Switch 5406zl-48G, 4 open module slots, 48 10/100/1000 ports

J8699A |
The 5400zl Series ProCurve switches are ideal for pilot users of cutting-edge technologies who are looking for security, mobility and convergence features. Designed to be implemented at the edge of the LAN, the 5400 Series is comprised of advanced Layer 2/3/4 switches that enable Adaptive EDGE Architecture that provides intelligent decisions at the periphery of the network and effective centralized network control. A 10/100/1000Base-T interface, built-in PoE support, 10 GbE capability, chassis and stackable form factors provide the scalability, ease of deployment, and ease of use and maintenance of the 5400 Series switches in any network environment. While competitors (Cisco, 3Com, Extreme, and Foundry) require their customers to make concessions on price, performance (10/100 vs. Gigabit), technology (PoE solutions vs. non-PoE solutions), and investment protection (10 GbE capability), the 5400 Series offers outstanding flexibility and excellent investment protection.

Product information
| | |
| --- | --- |
| Product description | Aruba 5406-48G zl - Switch - 48 ports - managed - rack mountable |
| Device type | Switch - 48 ports - managed |
| Species | Rack mountable 4U |
| Subtype | Gigabit Ethernet |
| Ports | 48 x 10/100/1000 (PoE) |
| routing protocol | RIP-2, IGMPv2, IGMP, OSPFv2, IGMPv3 |
| Remote Management Protocol | SNMP 1, RMON 1, RMON 2, RMON 3, RMON 9, Telnet, SNMP 3, SNMP 2c, HTTP |
| Performance features | Flow control, routing, BOOTP support, VLAN support, manageable |
| Product certifications | IEEE 802.3, IEEE 802.3u, IEEE 802.1D, IEEE 802.1Q, IEEE 802.3ab, IEEE 802.3af, IEEE 802.3x, IEEE 802.3ad (LACP), IEEE 802.1w, IEEE 802.1x, IEEE 802.1s |
| Power supply | alternating current 120/230 V (50/60 Hz) |
| Dimensions (width x depth x height) | 44.5 cm x 45.1 cm x 17.5 cm |
| Weight | 15.5 kg |
Extended product detailsGeneral
| | |
| --- | --- |
| Device type | Switch - 48 ports - managed |
| Species | Rack mountable 4U |
| Subtype | Gigabit Ethernet |
| Ports | 48 x 10/100/1000 (PoE) |
| routing protocol | RIP-2, IGMPv2, IGMP, OSPFv2, IGMPv3 |
| Remote Management Protocol | SNMP 1, RMON 1, RMON 2, RMON 3, RMON 9, Telnet, SNMP 3, SNMP 2c, HTTP |
| Authentication method | Secure Shell (SSH), RADIUS, TACACS+, Secure Shell v.2 (SSH2) |
| Performance features | Flow control, routing, BOOTP support, VLAN support, manageable |
| Product certifications | IEEE 802.3, IEEE 802.3u, IEEE 802.1D, IEEE 802.1Q, IEEE 802.3ab, IEEE 802.3af, IEEE 802.3x, IEEE 802.3ad (LACP), IEEE 802.1w, IEEE 802.1x, IEEE 802.1s |
Extension / Connectivity
| | |
| --- | --- |
| Interfaces | 1 x serial (RS-232) DB-9 Management ¦ 48 x 1000Base-T RJ-45 PoE |
| Expansion slots | 6 (total)/ 4 (free) x expansion slot |
| Installed modules (max. number) | 2 (installed) / 6 (max) |
Dimensions and weight
| | |
| --- | --- |
| Width | 44.5 cm |
| Depth | 45.1 cm |
| Height | 17.5 cm |
| Weight | 15.5 kg |
Power supply
| | |
| --- | --- |
| Power supply unit | Internal power supply unit |
| Installed number | 1 (installed) / 2 (max) |
| Required mains voltage | alternating current 120/230 V (50/60 Hz) |
| operating power consumption | 875 watts |
Environmental conditions
| | |
| --- | --- |
| Min Operating temperature | 0 °C |
| Max. Operating temperature | 55 °C |
| Permissible air humidity in operation | 15 - 95% |
For warranty details please check our Terms and Conditions page or calls us at 407-878-1232
---
Share this Product