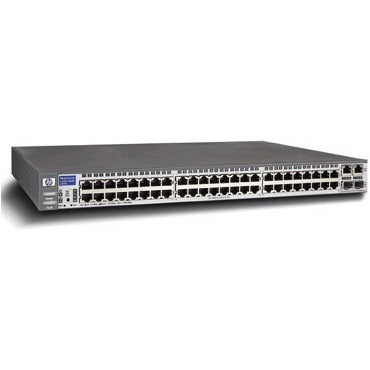 HP Procurve Switch 2650 J4899B
Item No.
---
This network switch from HP is laden with features for the small- to medium-sized office. It has 48 RJ-45 ports that run 10/100 Mbps, a dedicated console port, and two "dual personality" ports that can either be another 2 RJ-45 ports running at 10/100/1000 Mbps, or can be used as slots for mini-GBIC (GigaBit Interface Converter) transceivers. (GBIC allows for the interconnection of multiple switches even over longer distances without loss of speed.)
Plus, this switch offers more two dozen different protocols for great versatility in your operations. It puts through 10.1 million packets per second, with total switching capacity of 13.6 Gbps. It has 8MB of flash-ram and 32 MB of SDRAM, and has an 8,000 entry MAC table, allowing up to 8,000 addressable devices on your network. It comes with rack mount hardware, and is one standard unit tall.
Okay, maybe you aren't all that excited by a network switch. But your IT people just might be excited about this one. Check it out and see.
PERFORMANCE   The HP J4899B supports 48 RJ45 10/100 ports with 13.6 Gbps backplane capacity to provide a wire-speed non-blocking architecture for low-latency throughput.
DUAL-PERSONALITY FUNCTIONALITY   The HP J4899B features two 10/100/1000 ports (or mini-GBIC slots) for optional fiber connectivity such as Gigabit-SX, -LX, or –LH to adapt to various network cabling, resulting in reduced base system costs.
SECURITY FUNCTIONS   Supports a variety of security techniques including port security, MAC address lockout, IP lockdown, multiple user authentication, secure FTP, TACASC+, source-port filtering, secure shell, SSL and switch management logon security to vender comprehensive safeguard for the network.
QUALITY OF SERVICE   The QoS, enabled by advanced queuing techniques using 802.1p, optimizes networked applications including voice, video and data storage.
MANAGEABILITY   With advanced monitoring function, automatic problem solving mechanism, considerate backing up and free software updates, the HP J4899B minimizes burdens from administrators in many managerial aspects.
---
Share this Product