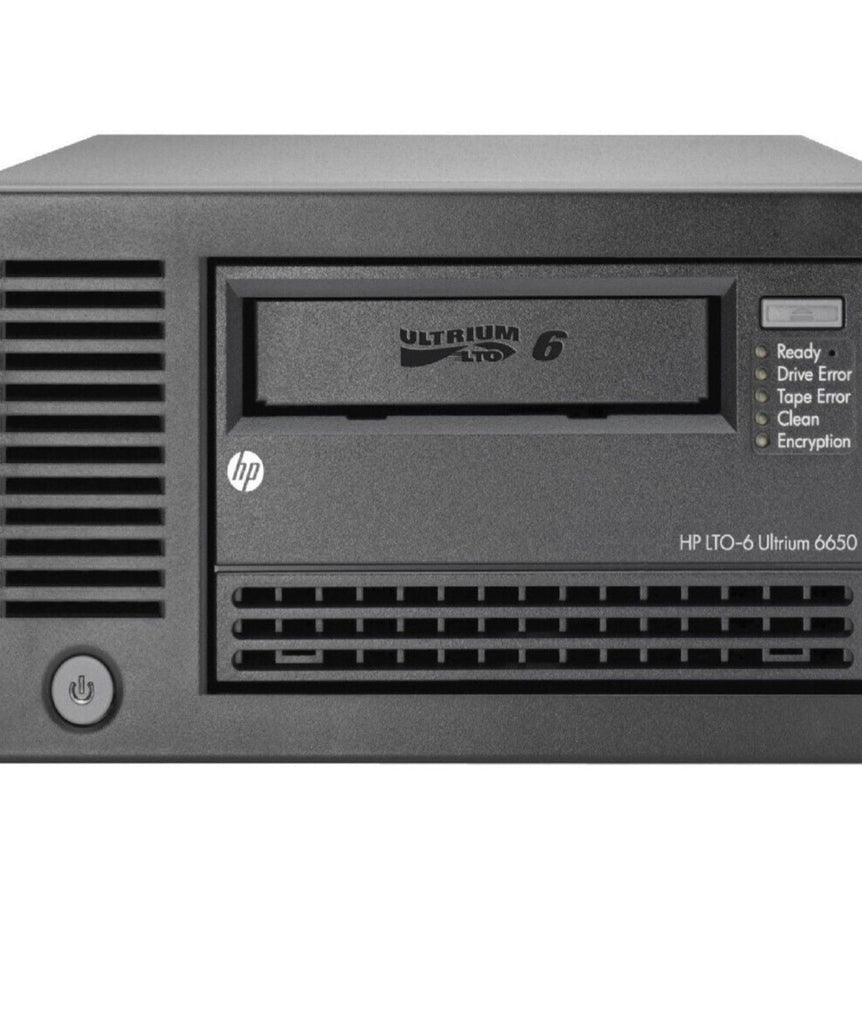 HP StorageWorks Ultrium 1840 Internal Tape Drive EH853A EH853B 452973-001 - NEW
Item No.
---
ULTRIUM 1840 LTO4 INT 800/1600 SCSI HP StorageWorks Ultrium 1840 - Tape drive - LTO Ultrium ( 800 GB / 1.6 TB ) - Ultrium 4 - SCSI LVD - internal - 5.25" - for ProLiant DL370 G6, ML150 G3, ML150 G5, ML310 G3, ML350 G5, ML350 G6, ML370 G4, ML370 G5 The family of HP StorageWorks Ultrium tape drives is HP's premier line of backup devices. Based on the LTO Ultrium format, an open standard with a well-defined six-generation roadmap, HP Ultrium tape drives offer customers the best choice for investment protection. With ultimate reliability and ease of use in mind, even at 100% duty cycles, HP's rugged design builds on superior LTO technology and adds advanced features like hardware data encryption to create a new level of data protection. The tape drives employ dynamic data rate matching to adjust to the speed of the host, reducing wear and tear on both drive and media and increasing performance, even on slower hosts. HP's ultra-durable soft-load feature automatically positions the data cartridge, and the highly reliable HP leader-capture mechanism virtually eliminates lost leaders, increasing the success of your backup and restore operations. Support for HP One-Button Disaster Recovery provides the easiest way to restore data in the event of a disaster. The StorageWorks family of tape drives also features support for HP Library and Tape Tools, which provides a single application for drive management, diagnostics, and performance optimization. If data is critical to your business, protect it with an HP StorageWorks Ultrium tape drive.

HP StorageWorks LTO-4 Ultrium 1840 Tape Drive sets new standards for capacity, performance and security. The Ultrium 1840 represents HP's fourth-generation of LTO tape drive technology capable of storing up to 1.6TB per cartridge while providing hardware-based data encryption to enable greater levels of security and unprecedented performance. AES 256-bit hardware data encryption provides easy-to-enable security to protect the most sensitive data and prevent unauthorized access of tape cartridges. By using Ultrium 1840 hardware data encryption, not only is data fully capable of being compressed therefore maximizing capacity, encrypted backups are completed without a loss in performance. Capable of data transfer rates up to 240MB/sec, HP's exclusive Data Rate Matching feature further optimizes performance by matching speed of host to keep drives streaming and enabling the fastest performance of any tape drive in the industry. The Ultrium 1840 provides investment protection with full read and write support with LTO-3 media, and the ability to read LTO-2 cartridge. By doubling the capacity of previous generation Ultrium drives, HP customers now require fewer data cartridges to meet their storage needs, significantly reducing their IT costs and increasing their ROI.

This kit includes:

HP StorageWorks LTO-4 Ultrium 1840 SCSI Internal Tape Drive;

HP StorageWorks Tape CD-ROM (contains HP StorageWorks Library and Tape Tools utilities, user manuals and Windows drivers);

HP StorageWorks Data Protector Express Single Server Edition backup/recovery software CD and the HP StorageWorks Data Protector Express Bare Metal Disaster Recovery option;

HP Ultrium 1.6 TB Data Cartridge;

Ultrium Cleaning Cartridge;

Multi-language labels;

Internal SCSI cable;

Performance tuning poster;

Documentation.


Main Specifications
| | |
| --- | --- |
| Product Description | HP StorageWorks Ultrium 1840 - tape drive - LTO Ultrium - SCSI |
| Device Type | Tape drive - LTO Ultrium |
| Recording Standard | LTO Ultrium 4 |
| Enclosure Type | Internal |
| Interface Type | SCSI LVD |
| Dimensions (WxDxH) | 5.7 in x 8 in x 3.3 in |
| Weight | 4.9 lbs |
| Storage Removable | LTO Ultrium - 5.25" x 1H |
| Storage Removable Capacity | 800 GB (native) / 1.6 TB (compressed) |
| Supported Tape Cartridges (Read and Write) | Ultrium 3, Ultrium 4 |
| Data Transfer Rate (native) | 120 MBps ( 432 GBph ) |
| Data Transfer Rate (compressed) | 240 MBps ( 864 GBph ) |
| OS Required | IBM AIX, SunSoft Solaris, HP-UX, Red Hat Linux, SuSe Linux, Microsoft Windows, HP Tru64 UNIX |
| Microsoft Certification | Compatible with Windows 7 |
| Manufacturer Warranty | 3 years warranty |
| Designed For | ProLiant DL370 G6, ML150 G3, ML150 G5, ML310 G3, ML350 G4, ML350 G5, ML350 G6, ML370 G4, ML370 G5 |
For warranty details please check our Terms and Conditions page or calls us at 407-878-1232
---
Share this Product