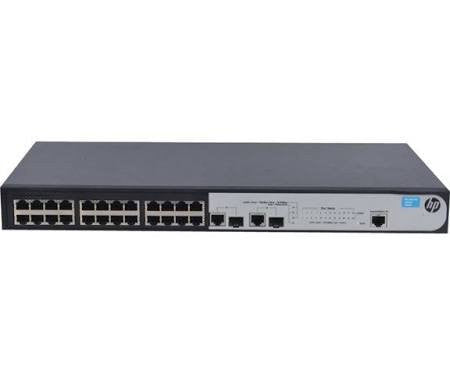 HPE 1910-24 Switch US EN
Item No.
---
HP 1910 switches are advanced smart managed fixed-configuration Gigabit and Fast Ethernet switches designed for small businesses in an easy-to-administer solution. The series has 8 gigabit models and 5 Fast Ethernet models. The gigabit models are : 8-, 16-, 24-, and 48-port 10/100/1000 non-PoE models; and two 8-port and two 24-port 10/100/1000 PoE models. Gigabit models have additional true Gigabit SFP ports for fiber connectivity. The Fast Ethernet models are : 8-. 24- and 48- 10/100 non-PoE models and 8-, 24- 10/100 PoE models. The Fast Ethernet models come with additional 2 combo uplink ports . All HP 1910 models support rack mounting or desktop operation. Customizable features include basic layer 2 features like VLANs and link aggregation as well as advanced features such as Layer 3 static routing, IPv6, ACLs and Spanning Tree Protocols. HP 1910 switches come with a lifetime warranty covering the unit, fans, and power supplies.
Device TypeSwitch - 24 ports - L3 - managed
Enclosure TypeRack-mountable - 1U
SubtypeFast Ethernet
Ports24 x 10/100 + 2 x combo Gigabit SFP
CapacityRouting table entries : 32
New Factory Sealed
In Stock - Ship Today!
For warranty details please check our Terms and Conditions page or calls us at 407-878-1232
---
Share this Product