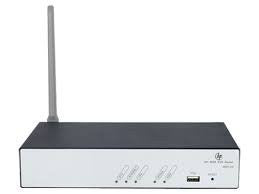 HPE HP MSR930 3G Router
Item No.
---
The HP MSR930 Router Series delivers a high-performance small-branch router providing integrated routing, switching, security, SIP, 802.11n WLAN connectivity, and 4G LTE/3G in a single unit. With its Converged Infrastructure, it enables faster time to service and enhanced performance while simplifying your network through a single management screen and zero-touch deployment. ;The MSR93x increases flexibility and agility, delivering extensive connectivity capabilities in a compact, fixed form factor. The MSR93x is based on open standards for seamless integration within small-branch deployment.
Device TypeRouter - 4-port switch (integrated)
Connectivity TechnologyWired
Data Link ProtocolEthernet
Fast Ethernet
Gigabit Ethernet
Flash Memory128 MB
RAM256 MB - DDR SDRAM
Encryption AlgorithmTriple DES
MD5
AES
TLS
New Factory Sealed
In Stock - Ship Today!
For warranty details please check our Terms and Conditions page or calls us at 407-878-1232
---
Share this Product