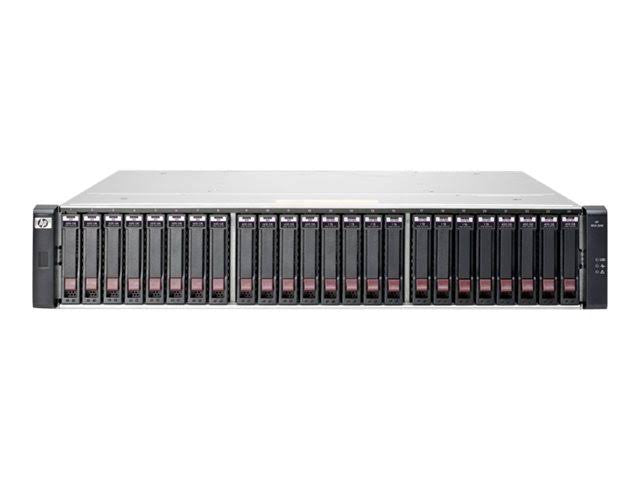 MSA 2040 ES SAN DC LFF STORAGE
Item No.
---
Changing storage needs for server customers now requires greater levels of performance and functionality at a lower cost of ownership. The next generation HP MSA 2040 Storage arrays raises the bar & uniquely addresses HP ProLiant customers' shared storage and data protection needs, reduces TCO while dramatically increasing performance using technologies such as Solid State Drives, Snap and Volume copy, Replication and SEDs.

The MSA 2040 Storage arrays are positioned to provide an excellent value for customers needing increasing performance to support initiatives such as consolidation and virtualization. The MSA 2040 delivers this performance by leveraging new controller architecture with a new processor, four ports with 4 GB cache per controller and using drive technologies such as SSDs.

The MSA 2040 Storage ships standard with 64 Snapshots and Volume Copy enabled for increased data protection and allow replication with optional Remote Snap software between arrays (FC or iSCSI only).
MAX SUPPORTED CAPACITY: 96 TB
HDD ARRAY EXTERNAL INTERFACE: 8GB FIBRE CHANNEL, ISCSI (1 GBE), ISCSI (10 GBE), 16GB FIBRE CHANNEL
MAXIMUM LUNS: 512
STORAGE CONTROLLER:
TYPE: 2 X RAID
INTERFACE TYPE: SAS 6GB/S
DATA TRANSFER RATE: 600 MBPS
CACHE / BUFFER SIZE ( MAX ): 8 GB
 For warranty details please check our Terms and Conditions page or calls us at 407-878-1232
---
Share this Product